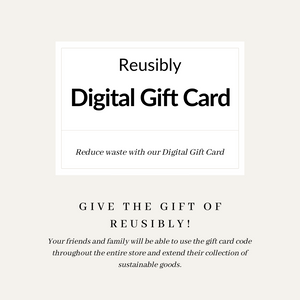 Give the gift of Reusibly! Your friends and family will be able to use the gift card code throughout the entire store and extend their collection of sustainable goods.
Features:
✅ Gift cards are emailed to our customers 
✅ This will include a code,  you'll need this to utilize the digital gift card
✅ Preventing the additional packaging and product waste of a traditional gift card. 
Due to the global pandemic, there are no exchanges or refunds to prevent the spread of COVID-19. All items are final sale/no exchanges due to COVID-19, we appreciate you supporting our business and mother nature.