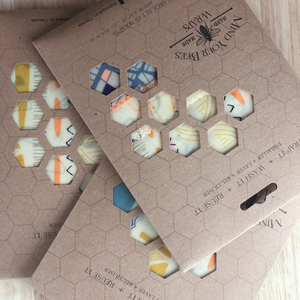 🐝 The addition your kitchen has been waiting for is here! This Bees Wax Wrap Set comes with 2 small, 2 medium, and 1 large wrap for your kitchen needs. There is an endless amount of ways that you can utilize the beeswax wraps including but not limited to the following:
Features:
🍁 Made In Canada by Mind Your Bees
✅ Ideal for wrapping produce
✅ Each package has a different selection of Food Wrap Patterns
✅ Folding into bags or envelopes for snacks throughout the day
✅ Covers for meal leftovers, bread wraps, lunches etc…


Due to the global pandemic, there are no exchanges or refunds to prevent the spread of COVID-19. All items are final sale/no exchanges due to COVID-19, we appreciate you supporting our business and mother nature.
Reusibly donates a portion of all sales to Canadian charities that support the mission to clean our lakes and oceans.